Brighton two-piece bring the noise and the hype at an earth shattering stadium gig!
What's the Score?
'Royal Blood', for those of you who don't know, were a band that broke in to the top ten charts with an unstoppable storm of a rock album, at a time when mainstream guitar music was essentially dying on it's ar*e. It's been nearly 10 years since then and the band have followed up their debut with two subsequent albums and toured their unforgiving riff-heavy anthems all around the globe.
2017's 'How Did We Get so Dark?', carried on were their 2014 Debut LP 'Royal Blood', left off, delving deeper into their blues-filled hell. 2021's 'Typhoons', took a different turn and surprised their fans by merging their heavy, industrial sound with the infectiously danceable backbeat of disco. Once again, the band showed the world what a bass guitar and a drum kit can be capable of. 'Royal Blood', didn't exactly re-invent the wheel, they just made it look cool as f*ck again so you felt like you'd never heard of such an invention before.
The Amazons
'The Amazons', were a band who's first album I quite liked but my interest waned for them as their second record came out. Basically, when I heard the distant echo of the drums in the hall, I wanted to go in but not so much that I would let it cut off my conversation or stop ma greeting over paying 6 quid for a pint. When I finally wiped my tears and went in, I began to realise that maybe I shouldn't have been so laid back… or loquacious.
On my arrival they band had entered into the tribal drum beat which teased the start of fan-favourite, 'Mother'. It was evident from the first chord that the band were putting their all into their performance. Nobody was looking at their instrument like it wasn't the most important thing on earth. As the lead singer began to talk, you could tell they were, as they admitted repeatedly to the crowd, a bunch of, 'not very cool', English boys. Still, what shone beyond that was their unwavering gratefulness to be playing at the Hydro and their appreciation for the city. Throughout their set they dedicated songs to, 'Baby Strange', 'The Snuts', and even a staff worker at Kelvengrove Art Gallery and Museum.
The rest of their set went from strength to strength from unreleased tune and personal favourite of mine, 'Ready for Something', to the singalong anthem, 'Doubt It'. By the time they finished on the killer note of, 'Black Magic', I walked back into the hall with a new found conviction that, 'The Amazons', still have much to offer and are not stuck in the swamp after all.
Royal Blood
As the lights went down for the final time of the evening, I stood down the front with clothes I'd purposely wore to be ripped apart and obliterated. As the band took to the stage and played the first note of single 'Typhoons', I knew I was appropriately dressed.
Throughout the set, there was a sea of what I could only really describe as a 'happy violence'. Lead singer Mike Kerr, stood soberly, leading the crowd into mayhem with vocals made all the more impressive with his recent recovery from COVID-19. Drummer Ben Thatcher as always was the chaos behind him, absolutely destroying his drum kit through every song he featured. Pits opened up that were the size of small football pitches, a drunken breakdance competition ensued in one of them to the amusement of everyone around. There were people of all ages and sexes. Sure there were run ins, arms everywhere and even shoes flying about at some point (mine came off six times!) but the crowd never lost its sense of community spirit with people picked up no sooner than they fell and torches shone to aid those who lost items or needed to tie their laces.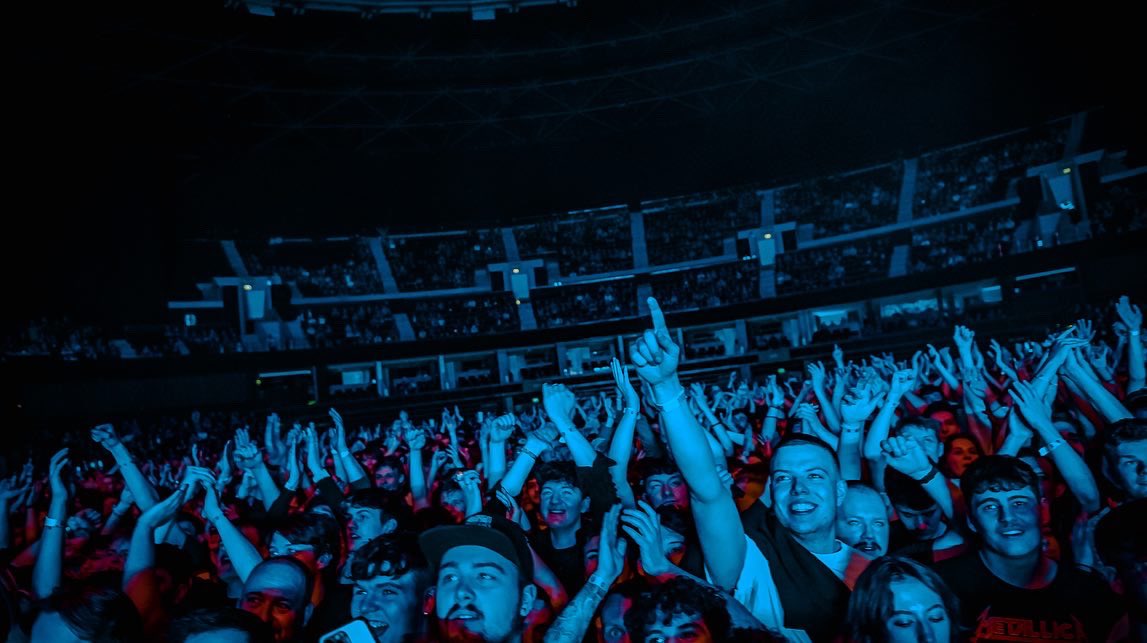 How Did We Get So Big?
The blistering seventeen song strong setlist was an absolute goldmine with 'Come on Over', 'How Did We Get so Dark?', 'Limbo', 'Trouble's Coming' and, 'Million to One', to name a few. There were technical issues during two songs which led the lead singer to walk off stage twice. Each time he was absent the crowd grew anxious and turned their worry that the gig would be cut short in to anger by slagging off the venue. These issues however only fuelled the crowd even more when the gig went back in full motion. A special moment was when Kerr played the piano ballad, All We Have is Now'. A rare moment of reflection in an otherwise riotous night, the stadium permeated with phone torches and lighters. The most poignant moment however was Thatcher's drum solo during 'Little Monster', a tribute to recently deceased 'Foo Fighters', drummer: Taylor Hawkins.
Before show-stopper, 'Out of the Black', both members summed up the night perfectly. Kerr broke from his casual demeanour and actually looked frightened at the sheer scale of what he and Ben had created, exclaiming in wonder that, "This is too big!". Thatcher, being more galvanised with the sensation than shaken by it, followed with the perfect finishing note, "We've been Royal Blood and you… have been Glasgow. Goodnight!"
A Stark Reminder
The only thing that dampened what was an otherwise great night was the people who decided to exploit the chaotic fun of the situation by stealing others possessions. I thought I would mention this as a caution to all those that go to these type of gigs or will be for the first time. Please keep a note of what you came in with throughout the madness to help put a stop to the vultures and gig scavengers that encroach on what should be a safe space for all. It was reported a man was caught with twenty phones on his possession and a friend I attended the gig with came out without the watch that was on his wrist. These things can happen.